Real State
We Have 3 Properties for Sale
Punta Cana Best Homes for Sales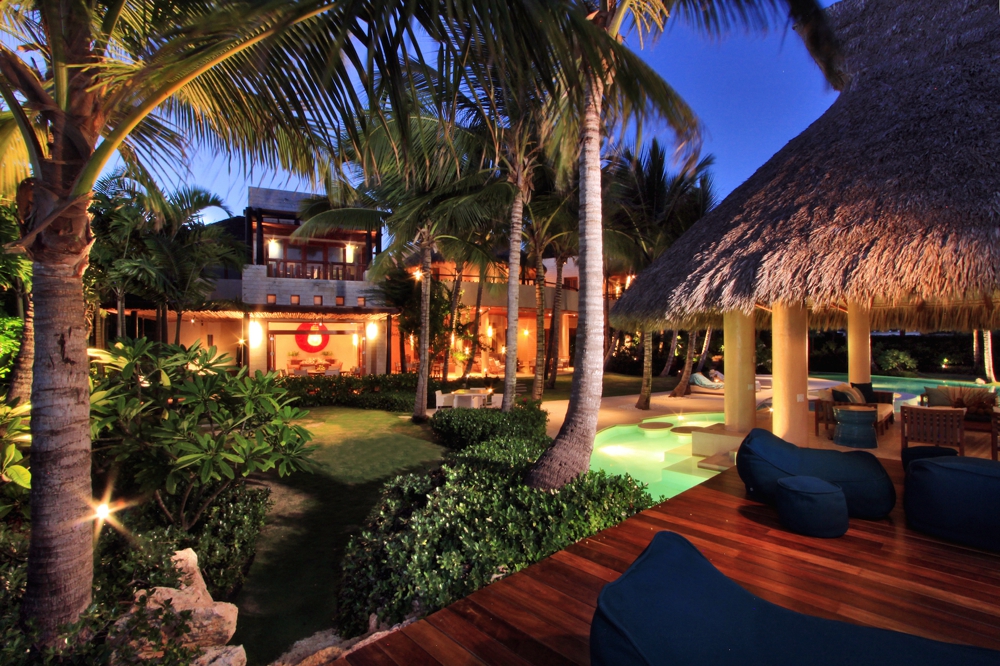 Casa Carey - Punta Cana
Casa Carey is a stunning beachside grand villa located in Arrecife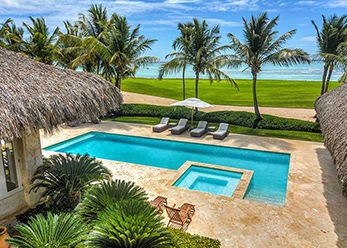 Villa Guappa - Punta Cana
Where laid-back tropical meets comfort, elegance, and exquisite taste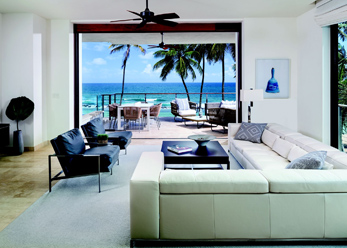 Ritz Carlton Residence - Puerto Rico
Dorado Beach, a Ritz Carlton Reserve Resort, combines its natural beauty with sophisticated resort elegance.
Casa Carey – Punta Cana
Size: 22,000 sqft
Bedrooms: 7
Bathrooms: 7.5

 
Casa Carey is a stunning beachside grand villa located in Arrecife, one of most exclusive and private residential enclaves of the world-renowned Punta Cana Beach Resort & Club. Another spectacular masterpiece of acclaimed Mexican architect, Manolo Mestre, Casa Carey's design approach harmoniously combines old-world architecture with the contemporary while complementing nature's beauty. Set amidst blue waters, 48-holes of internationally designed championship golf courses, five-miles of pristine private beach and on a 1,500-acre ecological reserve, the beach and golf course front estate is a spacious 20,000 square feet, offering 7 bedrooms and 7 bathrooms and 3 half bathrooms. Perfect for groups up to 16.
Casa Carey's enchanting beauty epitomizes comfort, laid-back luxury, and elegance. Winding pathways and the property's perfectly manicured gardens bring a sense of warmth and tranquility to the home. The swimming pool, in itself, is a masterpiece as the infinity edge seamlessly blends with the undisturbed view of the Caribbean Sea. The attention to detail is flawless. From the main living room's wooden structured ceiling to its handcrafted and etched concrete floors, each room is a meticulously thought out and designed work of art.
Fashioned with both luxury and comfort in mind, all 6 rooms are designed as large master suites with views of the gardens or sea. Ground floor suites have exterior showers and sitting terraces. Second floor suites have indoor showers and outside lanai terraces with hammocks.
the latest TV shows and movies in the home theater room. Even a tropical vacation can benefit from a bit of modern pleasures and technology.
The house is located less than a five minute drive from Punta Cana International Airport.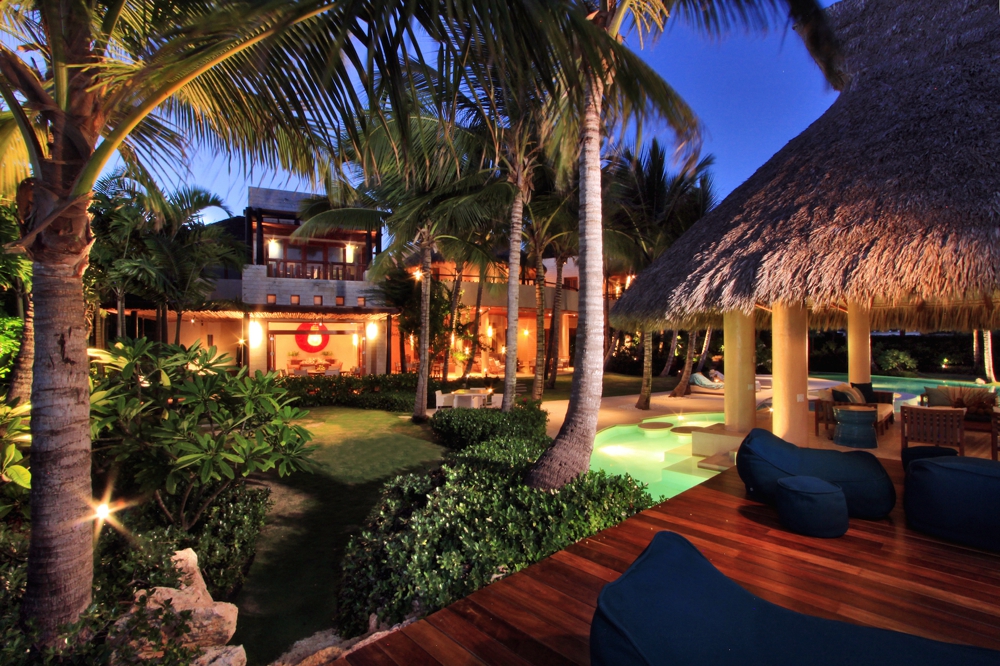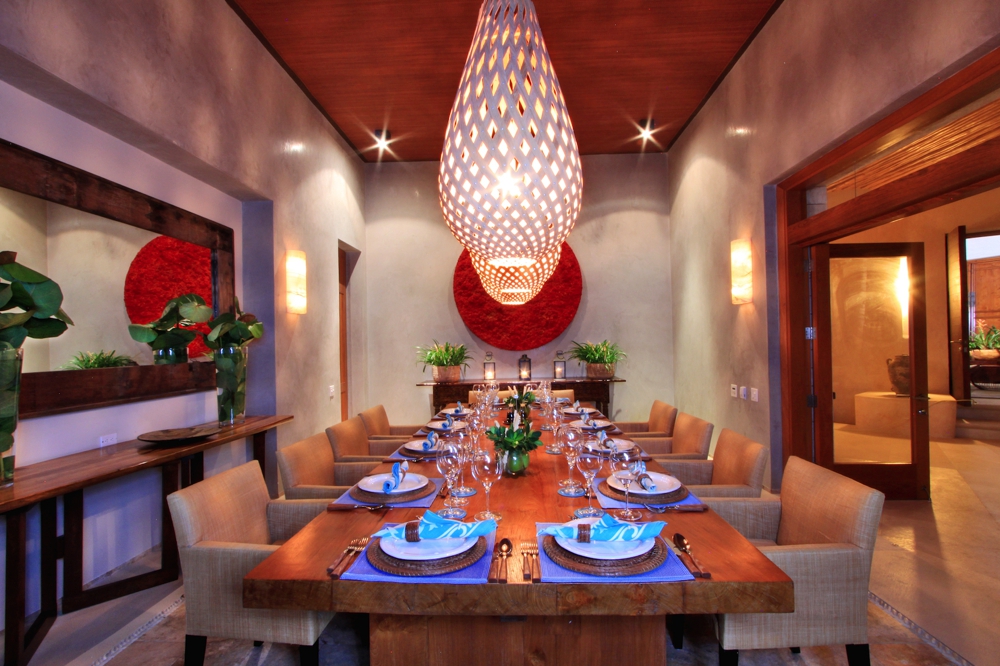 For Information on Pricing and Details, Please
Villa Guappa – Punta Cana
Size: 21,527 sqft
Bedrooms: 7
Bathrooms: 7.5
Where laid-back tropical meets comfort, elegance, and exquisite taste, with magic grandeur, only reserved for special those, the mere vision and architectural o Villa La Guappa, makes it one of Punta Cana Beach Resort's most appealing getaways. With an exclusive waterfront and golf-front location on the Caribbean and a compelling on-site swimming pool near the alfresco dining area, makes it dining more fabulous and provide the opportunities to unwind and enjoy the great outdoors are all around.
You awake to the sound of the sea waves, the year-round breeze and the beauty of the surroundings at times you listen to mockingbirds nearby. You feel an AHA moment, happy to be alive and in tune with the world around you. At Villa Guappa be prepared to stimulate your senses in a perfect tropical and unblemished beauty.  A splendid two-floor with two separate joint dwellings with spectacular volumes are perfectly in-sync with nature and everyday pleasures. A beautiful and well thought out architecture using natural elements only found in Punta Cana harmonize with a tasteful interior decoration, lush vegetation and perfectly manicure gardens. The picture perfect ocean and golf front view extends to a covered living room dining area and a separate family area. The kitchen comes fully equipped to meet all gastronomic desires, and it connects to an elegant dining room.
For those serene and lazy vacation nights, seven luxury suites accompany this villa to accommodate up 14 guests including children of all ages. One master bedroom with king size bed and breathtaking ocean and golf views; three other bedrooms with a pair of double beds and views of the tropical gardens; one bedroom with a queen size bed and view of the gardens, and two rooms with two twin beds each. Each bedroom is air-conditioned and has its own in suite bathroom. The Villa comes fully staffed ready to meet every possible need of our distinguished guests.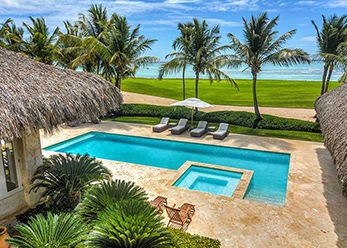 For Information on Pricing and Details, Please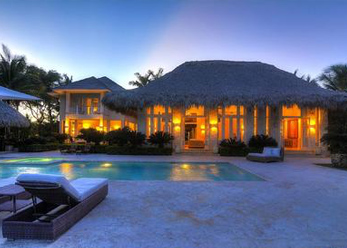 Dorado Ritz Carlton Reserve
Size: 30,00 sqft
Bedrooms: 2
Bathrooms: 3
The minute you arrive a sense of total bliss embraces your senses. The Dorado Ritz Carlton Reserve, one of the truly six star properties in the world, is home to a place you may want to call it home, for few days, or maybe, for many days to come!
The recently built West Beachfront Residences at Dorado Ritz Carlton Reserve provide everything you need in a vacation home: a unique beach front location on a one-mile palm studded, white sandy beach, peaceful and perfectly manicured gardens, fully equipped apartment with 100% cotton bedding and towels, fully equipped kitchen, exquisite taste and decor, private plunge pool on terrace, dining and seating area on terrace. Plus guest may be able to enjoy all the services and facilities of Dorado Ritz Carlton Resort, and all the amenities (golf, tennis, spa, gym, restaurants and much more).
Originally developed by Laurance Rockefeller in the 1950's on a beachfront shoreline on the north coast of Puerto Rico, Dorado Beach, A Ritz Carlton Reserve Resort is one the most exclusive private estates in Puerto Rico. Rockefeller envisioned Dorado as an eco-friendly sanctuary a vision that remains still today. The carefully and well though-out residential design, landscape architecture and infrastructure of Dorado Beach blends naturally with its private setting, lush and exotic natural surroundings, incorporating many of its nature elements harmoniously on its design all around.
Dorado Beach, a Ritz Carlton Reserve Resort, combines its natural beauty with sophisticated resort elegance, and provides a full array of facilities including 115 hotel rooms and suites on a mile of lush beachfront, a one-mile of sandy shoreline, 11 miles of natural trails, 4 Robert Trend Sr., 72 hole-golf courses, tennis center, water sport activities, and a full-service 5-acre botanical spa, one of the most wonderful signature spas in the world, and a whole array of dining options for visitors and residents alike.
Dorado is easily accessed from San Juan and San Juan International airport with just less than one- hour of easy drive.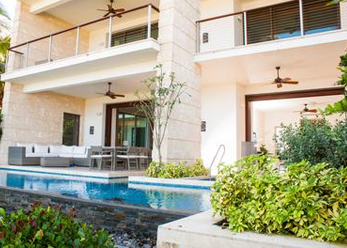 For Information on Pricing and Details, Please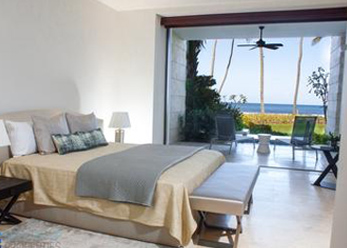 For Information on Pricing and Details:
Fill out this form and we will get in touch with you!
DESTINATIONS   ABOUT US      TRAVEL AGENTS   PRIVACY
Give Us a Call At 1-855-603-9488 or 1-305-271-9664
© Copyright 2017 – All Rights Reserved Mag Group Properties